Experienced Engineering For All Plastic Extrusion Projects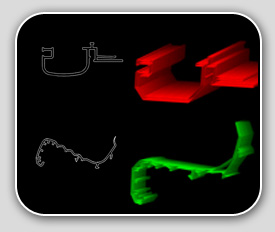 Backed by the technical expertise of our in-house engineering and production staff, our 3D modeling systems allow us to efficiently develop the profile design and tooling required to produce products to our customers' specific requirements.
Consulting with the client to select the best materials for the intended application, we custom build the tooling and develop the production process that will meet the quality and production objectives with due consideration given to minimizing total cost.
Our experienced engineering and production staff, work hand-in-hand on all projects identifying potential issues and opportunities to optimize the design and production process for each project regardless of run size.
Our committed workforce ensures that our customers receive the right advice as their project moves from concept to reality.