Skilled Craftsmen: Our Machinists, Tool & Die Makers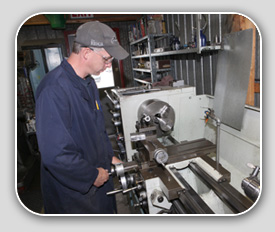 Achieving a consistent quality extrusion is a combination of many factors but none as important as the quality of the die itself. Customers can rely on our in-house expertise as we utilize our own Tool and Die Department for the design and development of the tools, dies, and any specialized equipment that is needed in the production process.
Our licensed tool and die makers and machinists are skilled craftsmen who take pride in the quality of their work to create extrusion dies and process solutions optimized for the project.
We use only high quality stainless steel in all UPC extrusion dies. This ensures quality, consistency and accuracy and we are proud to say, we made it.
If downstream tooling such as vacuum calibrators, cutting jigs or other fixtures are required in the production process, they will be designed by UPC engineers. Depending on the requirements, they may be made of a variety of materials and are often coated (Teflon, anodizing, chrome plating, etc.) for longevity and anti-friction characteristics.
Extending die life and enhancing productivity
Tooling is a significant investment in each project and safeguarding the tooling for future use is an important step in the complete production cycle. Our skilled Tool and Die Makers are charged with maintaining the die and tooling throughout its useful production life. This includes storage of the die and tools after a production run is complete, so they are ready for the next order – quickly and to specification.
Our services include:
Preventative inspections are conducted on every die and unique tooling
Rebuild or refurbish as necessary
Inventory preservation, to safely store tooling for future production requirements