Plastic Extrusion Processes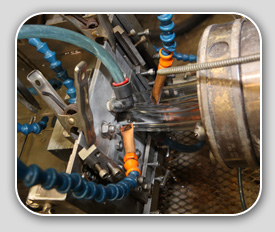 Approximately 65% of all plastics in use today pass though an extruder. To extrude a thermoplastic material, it first must be softened (usually by heat) so that it can be shaped inside an extrusion machine (the extruder). Most extrusion machines are single-screw machines and it is the screw which forces the material towards, and then through, a die exiting in one long piece.
The extruded material gets its shape or profile as it passes through a precisely machined die that has been custom designed for that product. The extruded product must be control cooled to maintain its shape.
Once the extrusion leaves the die, it can then either be allowed to cool and set to the shape produced, or it can be altered as it sets to shape as it passes through a calibrator while still warm.
Producing the actual extruded plastic form could be considered the 'easy part' of the complete extrusion process. Because plastics take a long time to cool down and in the process, they could lose the desired shape, the 'post extrusion equipment' and the process used to ensure the final part produced is to the customers' exact specification is truly UPC's competitive advantage.
Different products require specific methods of extrusion to achieve the final profile required or to make its production more efficient: Common methods of extrusion at UPC include:
Post-extrusion processes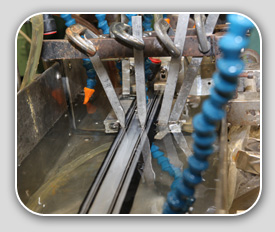 A wide variety of additional operations can also be applied to plastic products as they emerge from the die in their extruded form. Some of these operations may be completed by standard or custom devices added inline to the extruder, or as additional steps performed by other staff and equipment at the extrusion facility. Common examples of post-extrusion processes include:
vacuum sizing (during the extrusion process)
punching
part/batch number labeling
notching
slitting
taping
printing
cutting to a specified length, for either convenient shipping or finished product length